Big Apple is an employment agency in New York city run in order to help people find jobs.
Appearances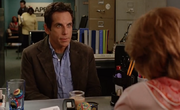 Night at the Museum
Big Apple Employment Agency is first seen in Night at the Museum where Larry visits the company's office in order to find a job so that he wouldn't have to find another place to live and also so he could still see his son Nicholas Daley. He meets with a lady to whom he calls Debbie so tells him out straight that she can't help him due to his appalling resume. Larry then explains why he needs her to find a job for him, Debbie then tells him that she may have something at the Museum of Natural History.
Ad blocker interference detected!
Wikia is a free-to-use site that makes money from advertising. We have a modified experience for viewers using ad blockers

Wikia is not accessible if you've made further modifications. Remove the custom ad blocker rule(s) and the page will load as expected.