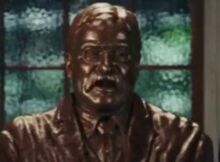 The Theodore Roosevelt bust made a brief appearance in, Night at the Museum: Battle of the Smithsonian. Larry Daley attempted to ask him for help while navigating the Smithsonian. However, this version of Teddy was not as informative as the Theodore Roosevelt in the Museum of Natural History. Larry eventually moved on to try and find help elsewhere.
Ad blocker interference detected!
Wikia is a free-to-use site that makes money from advertising. We have a modified experience for viewers using ad blockers

Wikia is not accessible if you've made further modifications. Remove the custom ad blocker rule(s) and the page will load as expected.